Travelling ducks
Animal: ducks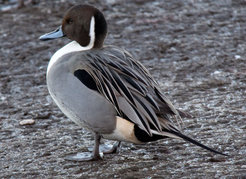 Billions of ducks breed in Siberia and migrate southwards to overwinter in the tropical regions of Africa, Asia or Southeast Asia. Pintails (Anas acuta), for example, clearly set off on their journey in spring and summer whereas mallards (Anas platyrhynchos) by comparison appear to move back and forth between various locations with much greater flexibility.
Little knowledge exists about which routes the species take, where they take transit stops and how the various duck populations are connected with one another. Such information is nevertheless becoming increasingly important in order to protect the animals and their habitats, on one hand, but also to prevent the spread of infectious diseases on the other. This is because ducks are potential carriers and vectors of a high number of infectious pathogens, such as the bird flu virus and antibiotic-resistant bacteria.
The Icarus scientists intend to equip individual birds of the two most common duck species with transmitters in Siberia at various locations from west to east and to track their flight paths. The researchers will also test the birds for a series of pathogens. Furthermore, they will measure their heart rate to provide an indication of their energy expenditure and body temperature.
Location: Siberia
Contact: Inge Müller, Robert Kraus, Wolfgang Fiedler and Martin Wikelski, Max Planck Institute of Animal Behavior, Konstanz, Germany
(Due to the war in Ukraine, the Russian space agency Roskosmos has terminated its cooperation with many partners. This also affects the Icarus project on the International Space Station ISS. The transmission of data from the ISS was stopped on March 3, 2022. The research team is currently considering alternative options for continuing Icarus independent of the ISS. One option is to operate its own small satellite to receive the data from the animals it transmits. In the meantime, the team is investigating whether the data can be read out from individual animals that have been transmitted on Earth.)