Orphaned bears under observation
Animal: bears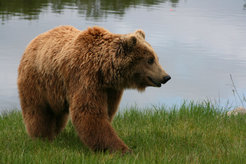 How do young bears raised by hand cope when they are released back into the wild? The Icarus transmitters enable the movements of young bears to be tracked and the success of reintroduction programmes to be evaluated.
Location: Russia, Romania, USA and Canada
Contact: Liya Pokrovskaya, Lomonosov Moscow State University, Russia
(Due to the war in Ukraine, the Russian space agency Roskosmos has terminated its cooperation with many partners. This also affects the Icarus project on the International Space Station ISS. The transmission of data from the ISS was stopped on March 3, 2022.
The research team is currently considering alternative options for continuing Icarus independent of the ISS. One option is to operate its own small satellite to receive the data from the animals it transmits. In the meantime, the team is investigating whether the data can be read out from individual animals that have been transmitted on Earth.)